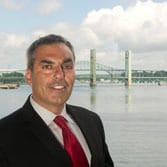 About John Samonas
From his childhood in Hampton, to attending Plymouth State University, and then moving back to the Seacoast, John has experienced the New Hampshire advantage and adopted the way of life. Upon graduation in 1985, John opted to work for himself, opening a Real Estate brokerage office in Hampton. Since then, John has managed real estate deals in every form - from broker to developer - for the over 30 [...]
About John Samonas
From his childhood in Hampton, to attending Plymouth State University, and then moving back to the Seacoast, John has experienced the New Hampshire advantage and adopted the way of life. Upon graduation in 1985, John opted to work for himself, opening a Real Estate brokerage office in Hampton. Since then, John has managed real estate deals in every form - from broker to developer - for the over 30 years.
Owners of the area's most recognizable properties such as Yokens , Peavey's, The Connie Bean, and The Rosa Restaurant, to homeowners of all sizes from $70,000 to $7,000,000, have trusted John to handle their real estate needs. This has landed him consistently in the Top Ten salespeople in Rockingham County for years. He has been responsible for hundreds of millions of dollars in property, houses, condos, and developments, one sale at a time.
John's strengths have been polished by the full range of scenarios he's handled throught his career, representing Buyers, Sellers, working with attorneys, banks, mortgage companies, and all parties involved with deals. John's unparalleled knowledge in financial issues, negotiation skills, potential problems, and creativity are the attributes that separate him from others in the industry.

Having lived in the immediate Seacoast within sight and sound of the water for over four decades, John has love for the area, and for his four grown children, who thrived growing up here.
Office Location
111 Bow Street
Portsmouth, NH 03801
Contact Info
Specifications
Languages:
Specialties:
Service Area: